Tuesday, February 26, 2008
Build a better way
I finally got around to watching "
The Story of Stuff
" and was absolutely blown away by the compelling and simple way that its message is presented. Spend 20 minutes of your time to watch this video (here,
on the site
, or
download it
)
It is really important that this message gets spread, as we all have a role to play in fixing what we have helped to create. As consumers we need to change how we purchase, as engineers we need to change how we create, as marketers we need to change the message that we spread.
There are some things we need to carefully consider. Take this comment from the
brilliant Seth Godin
,
"So I'm hoping that what you make is worthy. Marketing is a powerful tool especially when it associates a product with a desire and instinct we already have."
Does what we create help people to live a better happier life? Does it protect the precious world we live in? We have a great responsibility when we create, market and sell things – we need to make sure we carry that responsibility well.
And then the final line of the video,
"Remember that old way didn't just happen by itself. It's not like gravity that we just gotta live with. People created it. And we're people too. So let's create something new."
We
have created the system that we currently have. Does the current system protect our world? Does it help us to be happier? I don't think so.
Even though some people may think "there is no other way" we have to remember this:
we created this system, and we can create a new one
. We can find a new way.
Further reading:
[1]
Happiness versus consumption
on No Impact Man
[2]
Sustainable consumption's "double dividend"
on No Impact Man
[3]
Slower consumption by Dr Tim Cooper
– Journal of Industrial Ecology (via
No Impact Man
)
Subscribe
Get the latest posts immediately
Subscribe in a feed reader
or enter your email address:

About this blog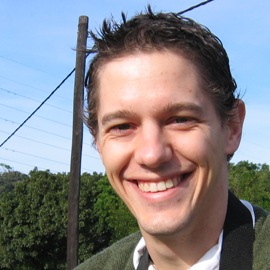 I'm Duncan Drennan and this blog is about spreading ideas regarding engineering, our environment and creating a better world. You can also follow me on Google Reader.

About Engineer Simplicity

Popular Posts
We are in the middle of an energy crisis and each of us need to make some dramatic changes to ensure that we have electricity, and that the ...

As engineers we spend a lot of time solving problems. A customer has a problem and it needs to be fixed. The electronic boards you have just...

On 29 June 2009 my wife and I became parents to Grace Drennan. It is a great privilege, honour and responsibility to be a part of this amazi...

Mercury in compact fluorescent tubes (CFLs) is a health hazard and therefore we should not use CFLs....at least that is the false message b...

Electronic design automation tools like OrCAD , PADS and Altium Designer are part of an electronic engineer's day–to–day life. We need...

There are lots of really complicated and difficult ways to design for lower energy consumption, but most of us do not have the time or budge...

Every time information is duplicated there is the possiblity of an error. Let me say that again, every time information is duplicated there ...

Sometimes we have to say No. Saying No is an important part – a critical part – or our job as engineers and designers. Great products are ...

Urban agriculture (UA) – the production of food within a city – is an important aspect of securing our food supply as well as restoring our...

Blog Archive