Sunday, July 30, 2006
A bit about me
[Last updated: 2008/05/05]
Just a bit of background information on me....
I was born on 6 August 1979 and grew up in Port Elizabeth (South Africa). After school I went on to study electrical and electronic engineering at the
University of Stellenbosch
. I obtained my undergraduate degree Cum Laude and began my Masters degree directly after that.
My thesis was the design of a transverse flux machine - a high torque density machine (i.e. small, but with lots of va-va-voom). I studied under Prof. Maarten Kamper in the
Electrical Machines Research
group. After a year of full time postgraduate study I got married (to a very beautiful girl) and moved up to Pretoria. I continued working on my Masters degree until obtaining it in April 2005.
While in Pretoria I worked at
Mecalc
designing the front end of the MODACS system (low noise analogue design with a good dose of microcontrollers and FPGAs). I was there for just over three years until I decided to start
Engineer Simplicity
, so we moved to Cape Town and I have been running the company for over two years now.
Running my company has been an interesting, exciting and challenging experience. I have met and worked with some great people, and expanded both my skill and capacity to deliver exciting solutions. I have also slowly come to realise what is really important to me. As I
blogged
I found myself being drawn more and more strongly toward issues such as energy efficiency (which I have always been interested in) and waste management.
I discovered that what is important to me is to create products that help us move towards a cleaner and better world. So my focus is to find ways to create better products – products that make us happy and are sensitive to the world we live in.
I write about various things in this blog, from environmental issues through to engineering design. My goal is to explore these issues from an engineering perspective. Hopefully this inspires engineers to build a better cleaner world, and exposes people to new thoughts and ideas on how to create a
better life right now
.
I am glad to have you on this journey with me.
Subscribe
Get the latest posts immediately
Subscribe in a feed reader
or enter your email address:
About this blog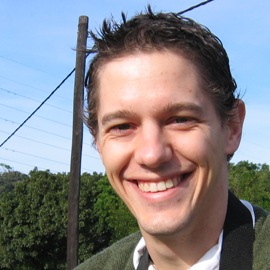 I'm Duncan Drennan and this blog is about spreading ideas regarding engineering, our environment and creating a better world. You can also follow me on Google Reader.
About Engineer Simplicity
Copyright Notice
© Copyright 2006-2010, Duncan Drennan, All rights reserved
Popular Posts
We are in the middle of an energy crisis and each of us need to make some dramatic changes to ensure that we have electricity, and that the ...

As engineers we spend a lot of time solving problems. A customer has a problem and it needs to be fixed. The electronic boards you have just...

On 29 June 2009 my wife and I became parents to Grace Drennan. It is a great privilege, honour and responsibility to be a part of this amazi...

When James Bond used miniature cameras in the 60's and 70's the thought of a wireless phone that can take pictures and send them t...

eWaste is a particularly difficult issue to deal with as it contains many different materials and lots of extremely hazardous substances. I...

Urban agriculture (UA) – the production of food within a city – is an important aspect of securing our food supply as well as restoring our...

Electronic design automation tools like OrCAD , PADS and Altium Designer are part of an electronic engineer's day–to–day life. We need...

With 48 post over nearly three years, I am certainly not a prolific blog writer. My goal has never been to write a lot, but to rather explor...

Quoting for electronic design is quite an art. You never really know how long something will take or the difficulties that you will face al...