Thursday, April 30, 2009
A slightly different direction
With 48 post over nearly three years, I am certainly not a prolific blog writer. My goal has never been to write a lot, but to rather explore issues from new angles and stimulate thinking and hopefully action. The positive side–effect of this has been exposure for my business, which was part of the original goal. In reality this blog has developed into much more than a marketing tool – it has become a platform for me to spread and amplify ideas, ideas which hopefully help to make the world a better place to live in.
Looking back over the titles of the blog posts there is a mix of mostly environmental issues and engineering. I have been spending a lot of time thinking about the direction of my own life, as well as of this blog. There is a definite changing of season for me – a new and renewed direction and energy – and with that comes a slight change of direction for this blog.
That change of season has a lot to do with making a shift towards more "doing" and less talking. I have noticed that I draw the most inspiration from people who actually do (or try to do) important and interesting things, from
David's fuel–to–electric vehicle conversion
to a friend who
helps get blankets to babies living in cold tin shacks
.
For me that means spending more time doing some of the things I have talked about or had on my mind for a while (like developing some systems to speed up my design process), as well as engaging with organisations that are doing things that I believe are important (like
this urban agriculture group
).
This means that there will be a slight shift of focus in the writing here. There will be a stronger focus on how I am developing my company and design process, and I will try to open up as many of the inner workings as possible so that everyone can learn from what I am doing (and hopefully not make the same mistakes!) Even though the focus will change a bit, there will always be a strong environmental slant, as creating a cleaner and healthier place to live is important to me and a part of who I am.
For the foreseeable future my commitment to you is to write one blog post every two weeks.
Thank you for coming on this journey with me. I am glad to have you along, and would love to hear from you (and thanks to all of you who have contacted me).
Image courtesy of Colin, licensed under a creative commons license.
Subscribe
Get the latest posts immediately
Subscribe in a feed reader
or enter your email address:
About this blog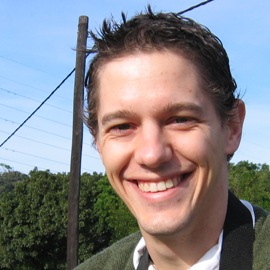 I'm Duncan Drennan and this blog is about spreading ideas regarding engineering, our environment and creating a better world. You can also follow me on Google Reader.
About Engineer Simplicity
Copyright Notice
© Copyright 2006-2010, Duncan Drennan, All rights reserved
Popular Posts
We are in the middle of an energy crisis and each of us need to make some dramatic changes to ensure that we have electricity, and that the ...

As engineers we spend a lot of time solving problems. A customer has a problem and it needs to be fixed. The electronic boards you have just...

So here we are, the first blog post...well, really, here I am. My name is Duncan Drennan and this is my blog on business, design, electronic...

There are a lot of steps to turn an idea into a product. Each step requires care and attention to ensure that the best product is created. B...

This post forms a part of the SA Blook . So what is our reality? South Africa has an unemployment rate of about 23%, a skills shortage crisi...

The short version (my "elevator pitch"): Compact fluorescent lamps (CFLs) use about a fifth of the energy of a normal (incandescen...

eWaste is a particularly difficult issue to deal with as it contains many different materials and lots of extremely hazardous substances. I...

Electronic design automation tools like OrCAD , PADS and Altium Designer are part of an electronic engineer's day–to–day life. We need...

On 29 June 2009 my wife and I became parents to Grace Drennan. It is a great privilege, honour and responsibility to be a part of this amazi...