Monday, October 27, 2008
What I learned at the Natural & Organic Expo
I visited the
Natural & Organic Expo
last weekend and learned a few things.
Polystyrene can be and is being recycled in Cape Town.


From the reading that I have done I thought that polystyrene was expensive and inefficient to recycle, mainly due to the problems associated with transporting such a light plastic, but polystyrene is actually collected, melted into ingots and recycled into picture frames, stationery, cornices, skirting boards, hangers and seedling trays. In Cape Town EPS Reclaim in Montague Gardens collects and smelts polystyrene. Find your nearest polystyrene drop off point.

There is clearly a big demand for natural cleaning products.


I was amazed at how many different natural, organic and bio–degradable household cleaning products were on show. The demand and acceptance of these products is growing not just for environmental reasons, but also due to health concerns such as allergic reactions.

Oxi-degradable plastics are creating headaches for recyclers.


I have written about oxi–degradable plastics before. It is important to realise that oxi–degradable plastic is very different from bio–degradable plastic. Companies like Green Home make bio–degradable plastic from plant sources (in their case bagasse, a byproduct of the sugar industry), while oxi–degradable plastics are normal plastic (like polyethylene) with the addition of a metal salt which causes them to break down over time. In South Africa oxi–degradable plastics have been used mainly for fruit and bread bags. The problem with these types of plastics is that they are indistinguishable from normal plastics and it is difficult to know how far the degradation process has progressed. Oxi–degradable bags pollute the recycling stream and result in a poor quality end product.

Bio–degradable plastics require education and infrastructure.


Bio–degradable plastic products made from sustainable sources (such as bagasse, mentioned above) may provide a viable alternative to plastic in some cases. It is important that they are manufactured from sources other than food crops (plastic from corn is unsustainable). A problem that needs to be addressed (and is being addressed by manufacturers such as Green Home) is how to manage the waste from these products. Simply dumping bio–degradable plastic into a landfill is undesirable. Bio–degradable plastics will not degrade in a landfill, which means effective collection and composting needs to take place. Consumers can compost these packages at home, but without education it is unlikely that this will happen. Education, collection and composting infrastructure is an important aspect of bio–degradable plastic.

Egg yolks contain colourant.


Pick 'n Pay is selling a new range of indigenous free range eggs, and one of the marketing points is "No yolk colourants." Yolk colourants? It turns out that chicken feed is often supplemented to increase its carotenoid content to obtain a more consistent colour yolk. The supplements used appear to be natural or "nature identical" such as lutein and canthaxanthin.
It was good to meet new people, get exposed to a few new ideas and to find new sources of organic and environmentally aware products. If you are in Cape Town and the surrounding area then make a point to go next year.
Subscribe
Get the latest posts immediately
Subscribe in a feed reader
or enter your email address:
About this blog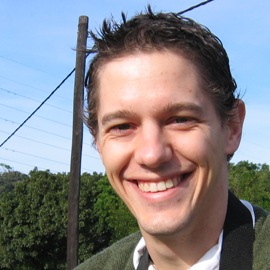 I'm Duncan Drennan and this blog is about spreading ideas regarding engineering, our environment and creating a better world. You can also follow me on Google Reader.
About Engineer Simplicity
Copyright Notice
© Copyright 2006-2010, Duncan Drennan, All rights reserved
Popular Posts
We are in the middle of an energy crisis and each of us need to make some dramatic changes to ensure that we have electricity, and that the ...

As engineers we spend a lot of time solving problems. A customer has a problem and it needs to be fixed. The electronic boards you have just...

So here we are, the first blog post...well, really, here I am. My name is Duncan Drennan and this is my blog on business, design, electronic...

There are a lot of steps to turn an idea into a product. Each step requires care and attention to ensure that the best product is created. B...

This post forms a part of the SA Blook . So what is our reality? South Africa has an unemployment rate of about 23%, a skills shortage crisi...

The short version (my "elevator pitch"): Compact fluorescent lamps (CFLs) use about a fifth of the energy of a normal (incandescen...

eWaste is a particularly difficult issue to deal with as it contains many different materials and lots of extremely hazardous substances. I...

Electronic design automation tools like OrCAD , PADS and Altium Designer are part of an electronic engineer's day–to–day life. We need...

On 29 June 2009 my wife and I became parents to Grace Drennan. It is a great privilege, honour and responsibility to be a part of this amazi...