Tuesday, October 14, 2008
Efficiency is the goal
Nature strives towards efficiency.
Efficiency
can be defined as any waste which occurs in achieving a goal, or, "The ratio of the effective or useful output to the total input in any system."
Efficiency is the perfect use of material.
Packaging is inefficient, as the "goal" is what is inside the package, while the packaging becomes waste. Packaging can be efficient if it is reused, as it never exits the system. Recycling requires extra energy, and is therefore less efficient than reusing, but more efficient than throwing away packaging. Using less to achieve the same is material efficiency. Smaller products, less packaging, lower material consumption. Have you ever considered how you could design exactly the same thing but smaller? Electronic engineers, think about small 0402 or 0201 size resistors over larger ones – in most cases they are functionally equivalent, but use less material and require less space on a PCB.
Efficiency is the perfect use of fuel.
Internal combustion engines are around 20% efficient
– that means 80% of the energy you put into your car is wasted. If cars were 100% efficient they would have zero emmissions and generate no heat. Did you know that
cycling is the most energy efficient mode of transport
?
Efficiency is the perfect use of water.
Polluting potable water with waste such as sewerage and chemical cleaners requires energy and further chemicals to restore the water to a usable state. Efficient water usage means reducing consumption and leaving it in a usable state. Reducing waste and chemicals entering the water system means more efficient processing of water. Processing waste on site (
composting toilets
,
greywater systems
) reduces both waste and water consumption.
Solar energy is time efficient.
Oil and natural gasses are the result of thousands of years of energy from the sun. Using the sun directly is an efficient time short cut.
Increasing crop yields makes more efficient use of space. Decreasing the use of fertilizers moves towards the perfect balance of an efficient ecosystem. Growing food near where it will be consumed is transport efficient. All our environmental goals centre around efficiency.
We need to learn from nature – waste nothing, strive towards perfect efficiency.
Subscribe
Get the latest posts immediately
Subscribe in a feed reader
or enter your email address:
About this blog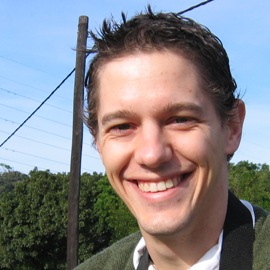 I'm Duncan Drennan and this blog is about spreading ideas regarding engineering, our environment and creating a better world. You can also follow me on Google Reader.
About Engineer Simplicity
Copyright Notice
© Copyright 2006-2010, Duncan Drennan, All rights reserved
Popular Posts
We are in the middle of an energy crisis and each of us need to make some dramatic changes to ensure that we have electricity, and that the ...

As engineers we spend a lot of time solving problems. A customer has a problem and it needs to be fixed. The electronic boards you have just...

On 29 June 2009 my wife and I became parents to Grace Drennan. It is a great privilege, honour and responsibility to be a part of this amazi...

When James Bond used miniature cameras in the 60's and 70's the thought of a wireless phone that can take pictures and send them t...

eWaste is a particularly difficult issue to deal with as it contains many different materials and lots of extremely hazardous substances. I...

Urban agriculture (UA) – the production of food within a city – is an important aspect of securing our food supply as well as restoring our...

Electronic design automation tools like OrCAD , PADS and Altium Designer are part of an electronic engineer's day–to–day life. We need...

With 48 post over nearly three years, I am certainly not a prolific blog writer. My goal has never been to write a lot, but to rather explor...

Quoting for electronic design is quite an art. You never really know how long something will take or the difficulties that you will face al...