Monday, July 28, 2008
Volunteering to Die
We need
three planets
for everyone to live like the average European. In other words,
if we continue on our current path two out of three people are going to die
. In a world of more than six billion people, that is going to be an awful lot of pain.
Will you be one of those who has to die? Your wife? Children? Friends?
So instead of carrying on along a path that will eventually end in heartache, I am going to choose a more difficult way.
I am volunteering to die.
This requires more than resolve and determination – this requires action. It means I have to push against the tide, to take some steps along a less trodden path.
Even though this may appear to be a great self–sacrifice, this is about creating a new life. A new life which enables each of us to have access to clean air, clean water, and nutritious food while nurturing our home (our planet) instead of sucking it dry. It is about acknowledging that we can
all
live a great life by learning how to live with just one planet, by cutting off and putting to death that part of us which lives like there are three (or more) planets. That is what I am volunteering to do.
The "good life" that has been sold to us is one where we take no responsibility for its consequences. It is a life that consumes with indifference and wastes without thought. Living like that is like extending your mortgage loan more and more each month, eventually the money runs dry and the bank manager comes to collect on the debt by taking your home away. I would rather figure out how to keep my home.
The exciting thing is that this is not about saving the
Riverine Rabbit
(even though that is important, because we are all connected) –
this is about creating better, happier and more fulfilling lives
. It is about climbing off the
work–spend–work
hamster wheel and finding satisfaction beyond the
consumption of stuff
.
Even though the "good life" we have been sold may be an illusion, putting that to death is a slow, complicated and sometimes painful process. The sooner we can do it though, the sooner we will be able to live a new revitalised life.
"Just as obesity is best overcome by adopting a nutritious, varied, tasty diet and a healthier lifestyle, so too our global overconsumption will be solved by moving to different – but better, healthier and happier – ways of living." – A One Planet Future (worth a read)
Here are
some ways to start right now
.
Picture courtesty of the WWF One Planet Future campaign
Subscribe
Get the latest posts immediately
Subscribe in a feed reader
or enter your email address:
About this blog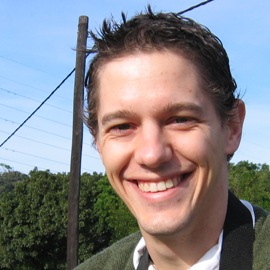 I'm Duncan Drennan and this blog is about spreading ideas regarding engineering, our environment and creating a better world. You can also follow me on Google Reader.
About Engineer Simplicity
Copyright Notice
© Copyright 2006-2010, Duncan Drennan, All rights reserved
Popular Posts
We are in the middle of an energy crisis and each of us need to make some dramatic changes to ensure that we have electricity, and that the ...

As engineers we spend a lot of time solving problems. A customer has a problem and it needs to be fixed. The electronic boards you have just...

So here we are, the first blog post...well, really, here I am. My name is Duncan Drennan and this is my blog on business, design, electronic...

There are a lot of steps to turn an idea into a product. Each step requires care and attention to ensure that the best product is created. B...

This post forms a part of the SA Blook . So what is our reality? South Africa has an unemployment rate of about 23%, a skills shortage crisi...

The short version (my "elevator pitch"): Compact fluorescent lamps (CFLs) use about a fifth of the energy of a normal (incandescen...

eWaste is a particularly difficult issue to deal with as it contains many different materials and lots of extremely hazardous substances. I...

Electronic design automation tools like OrCAD , PADS and Altium Designer are part of an electronic engineer's day–to–day life. We need...

On 29 June 2009 my wife and I became parents to Grace Drennan. It is a great privilege, honour and responsibility to be a part of this amazi...