Wednesday, November 19, 2008
The virtuous cycle of organics
Organic farming
and the consumption of organic food creates a positive feedback cycle – healthier food, cleaner planet, happier people. The cycle goes something like this:
Organic farming techniques result in improved soil quality and fewer chemicals entering into the environment.

Improved soil quality results in better water retention, reduced run–off and a higher nutrient content.
Reduced run–off along with reduced chemical usage results in cleaner water systems.

Reduced pesticide usage results in an increase in biodiversity and strengthened eco–systems.
The reduced chemical input means less energy is being spent to product petro–chemical based fertilizers.
Reduced energy and fossil fuel consumption means reduced emissions and therefore cleaner air.
We get healthier food, cleaner water and cleaner air resulting in healthier, happier people.

When people choose organic products over the alternatives it encourages farmers to choose organic methods, therefore strengthening the positive cycle.
Compare this with genetically modified crops:
GM crops encourage the use of herbicides (like Monsanto's Round–up ready crops).
Farmers cannot propogate their crops (which hands over food security to large corporations) or develop seed varieties suited to their soil and environment.

Conventional methods require the addition of chemical fertilisers to maintain soil quaility.
Exclusive use of chemical fertilisers results in a narrow spectrum of nutrients in the soil.
Fertilizers, herbicides and pesticides run–off and pollute the water system.
Pesticides result in the death of beneficial birds and bugs.
More energy and fossil fuels are spent on the production of chemical fertilisers, herbicides and pesticides, resulting in more emmissions and dirtier air.
Lower quality food as well as dirtier air and water – more unhealthy and unhappy people.

There are two main arguments that I have encountered against organic farming techniques: yield and cost. Many people believe that yields are lower with organic techniques while they actually
average out to be the same
as, or
higher than
conventional farming over the long term.
In some cases
, particularly in Africa,
organic farming yields are much higher than conventional farming
(this is partially due to the reduced input costs).
Cost is a factor of supply and demand, but is also influenced by organic certification costs which are high and ongoing. Small organic farmers are often unable to afford full organic certification, but their non–certified organic goods may be available at better prices through farmers markets, co–ops and
CSA
s. If costs is an issue, but you want to reduce your pesticide intake, then you can focus on choosing organic varieties of the
top offending foods on this list
.
If you are in Cape Town or the surrounding areas you can get reasonably priced organic produce from fully certified, as well as non–certified, organic farmers via The Ethical Co–Op.
Photo courtesy of Jennifer Dickert, licensed under a creative commons license.
Subscribe
Get the latest posts immediately
Subscribe in a feed reader
or enter your email address:
About this blog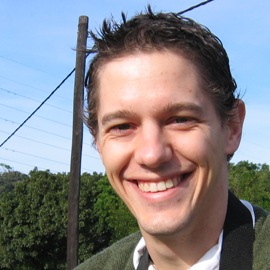 I'm Duncan Drennan and this blog is about spreading ideas regarding engineering, our environment and creating a better world. You can also follow me on Google Reader.
About Engineer Simplicity
Copyright Notice
© Copyright 2006-2010, Duncan Drennan, All rights reserved
Popular Posts
We are in the middle of an energy crisis and each of us need to make some dramatic changes to ensure that we have electricity, and that the ...

As engineers we spend a lot of time solving problems. A customer has a problem and it needs to be fixed. The electronic boards you have just...

So here we are, the first blog post...well, really, here I am. My name is Duncan Drennan and this is my blog on business, design, electronic...

There are a lot of steps to turn an idea into a product. Each step requires care and attention to ensure that the best product is created. B...

This post forms a part of the SA Blook . So what is our reality? South Africa has an unemployment rate of about 23%, a skills shortage crisi...

The short version (my "elevator pitch"): Compact fluorescent lamps (CFLs) use about a fifth of the energy of a normal (incandescen...

eWaste is a particularly difficult issue to deal with as it contains many different materials and lots of extremely hazardous substances. I...

Electronic design automation tools like OrCAD , PADS and Altium Designer are part of an electronic engineer's day–to–day life. We need...

On 29 June 2009 my wife and I became parents to Grace Drennan. It is a great privilege, honour and responsibility to be a part of this amazi...