Monday, May 05, 2008
Facing the food crisis
I think that it is worth trying to understand some of the
reasons we are heading towards a food crisis
.
The result of all of this deregulation meant that small producers lost access to the local market giving global market access to a few global producers. Three companies—Cargill, Archer Daniels Midland, and Bunge—control the vast majority of global grain trading, while Monsanto controls more than one-fifth of the global market in seeds. Consumers from Sioux City to Soweto are more and more dependent on fewer and fewer producers. By eliminating the breadth and diversity of the system, we've eliminated its ability to withstand shock or manipulation.

Perhaps the greatest evidence of the scale of deregulation of the world agricultural market is the liquidation of reliable grain reserves. Though we've impressively deregulated financial markets, the Federal Reserve and central bankers across the globe still maintain the ability to soften the spikes and plunges of our monetary system. Not so in food markets. For centuries grain reserves have been an essential component of functioning food systems. When prices are high grain reserves can be released on the market, bringing prices down. When prices are low, reserve systems buy up grain, bringing prices back up. In the last two decades, however, the U.S. and most other governments have let reserve systems wither, placing full faith in the free market to self-correct, and eliminating their last emergency response mechanism.

Read the full article on UrbanSprout. Also further reading.
I am no fan of biofuels (or bio–plastics), but I have been a little bit suspicious that all the fingers are being pointed at it as the main cause of the food crisis.
But, looking at this, this crisis is a much more complex and deadly beast. We have already seen the same thing playing out in
South Africa in both our bread and diary industries
.
Unlike money supply there is currently no way to normalise the fluctuations in food prices - so where to from here? What can we do to fend of this looming crisis?
Trevor Manuel has quite clearly indicated what he thinks is best -
grow as much food as possible
.
Manuel said food prices had broken out of a 150-year pricing band and shot up in relation to other living expenses. "I don't think you are going to see a reduction in prices for some time, so whatever can be done to encourage people to plant on every piece of arable land would be a benefit to all," he said.
I think a lot of people see that comment as a drive for subsistence farming. Yes, and no. In the face of rising food prices, producing food will be a profitable business, whether on a small or large scale. And that means that growing more food makes good business (and social) sense for South Africa.
On the other hand there is a strong case for backyard growing, as well as the conversion of water loving fields of grass to
food producing gardens
.
"Agriculture is becoming more and more suburban," says Roxanne Christensen, publisher of Spin-Farming LLC, a Philadelphia company started in 2005 that sells guides and holds seminars teaching a small-scale farming technique that involves selecting high-profit vegetables like kale, carrots and tomatoes to grow, and then quickly replacing crops to reap the most from plots smaller than an acre. "Land is very expensive in the country, so people are saying, 'why not just start growing in the backyard?' "
So maybe amongst all the turmoil there is a great opportunity. For some it may be a financial opportunity. For others (like me) it is an opportunity to have some fun (because growing stuff is cool) and contribute in a meaningful way to a number of issues facing us.
Will you be a victim or a hero of this crisis?
[2008/05/15 Update] Thanks to
Pia
for pointing out this article about the
Western Cape making municipal land available for growing food
.
Subscribe
Get the latest posts immediately
Subscribe in a feed reader
or enter your email address:
About this blog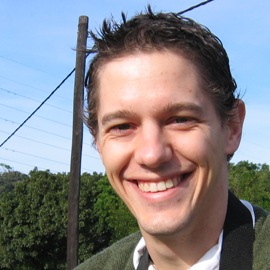 I'm Duncan Drennan and this blog is about spreading ideas regarding engineering, our environment and creating a better world. You can also follow me on Google Reader.
About Engineer Simplicity
Copyright Notice
© Copyright 2006-2010, Duncan Drennan, All rights reserved
Popular Posts
We are in the middle of an energy crisis and each of us need to make some dramatic changes to ensure that we have electricity, and that the ...

As engineers we spend a lot of time solving problems. A customer has a problem and it needs to be fixed. The electronic boards you have just...

So here we are, the first blog post...well, really, here I am. My name is Duncan Drennan and this is my blog on business, design, electronic...

There are a lot of steps to turn an idea into a product. Each step requires care and attention to ensure that the best product is created. B...

This post forms a part of the SA Blook . So what is our reality? South Africa has an unemployment rate of about 23%, a skills shortage crisi...

The short version (my "elevator pitch"): Compact fluorescent lamps (CFLs) use about a fifth of the energy of a normal (incandescen...

eWaste is a particularly difficult issue to deal with as it contains many different materials and lots of extremely hazardous substances. I...

Electronic design automation tools like OrCAD , PADS and Altium Designer are part of an electronic engineer's day–to–day life. We need...

On 29 June 2009 my wife and I became parents to Grace Drennan. It is a great privilege, honour and responsibility to be a part of this amazi...